Hottie of the Week: Reiko Hayashi-Billena
May 9, 2014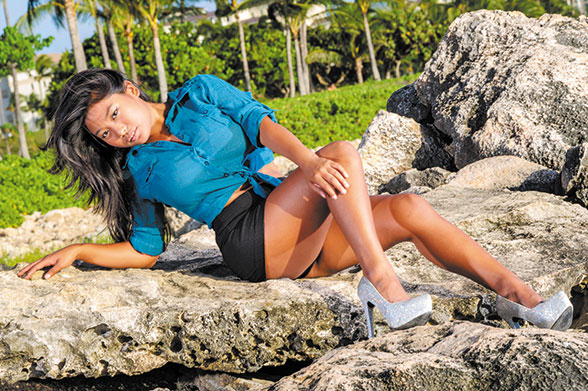 PHOTOS BY MICHAEL KITCHENS
NAME: Reiko Hayashi-Billena
HEIGHT: 5-0
HOT BOD NUMBERS: 35-27-36
WHAT I'M MADE OF: I'm half filipino, half Japanese, and I'd like to believe there's a dash of Hawaiian in me.
WHAT I RIDE: A Saturn SL2 named Ralph
WHAT I WATCH: The Voice, Disney movies, a ton of anime, Youtube videos and most recently How I Met Your Mother.
BOOK IT: Murder Casts a Shadow by Victoria Nalani Kneubuhl. It's a great novel for all the locals! But tourists should read it too.
MUSIC TO MY EARS: I like all kinds of music. Like most people it depends on my mood, although most of my favorite  songs come from the 90′s and early 2000′s
PLACE TO PARTY: Anywhere and everywhere there is good company.
FAVE FOOD: All foods are my fave, but what I eat most often are meat jun, sushi and pizza.
TURN ONS: Gotta have a sense of humor, be adventurous, intelligent, supportive and I especially like it when a guy is willing to cook for me.
TURN OFFS: Bad hygiene. Basically, you should be able to take care of yourself —shower, wash your clothes, do some dishes, etc. Oh and please don't be boring!


SOMETHING FEW KNOW ABOUT ME: I took piano lessons for several years and I have been wearing glasses since I was in the fifth grade.
INSTAGRAM: reikokonut_photography
Wanna be a Street Pulse hottie? Send your best pictures and contact information to hottie@honolulustreetpulse.com. Applicants must be at least 18 years of age.